This new release of URandR will finally allow you to save your settings without touching your xorg.conf (except for the virtual resolution).
URandR can now check if you're using independent screens or cloned screens as you can see in the following screenshot: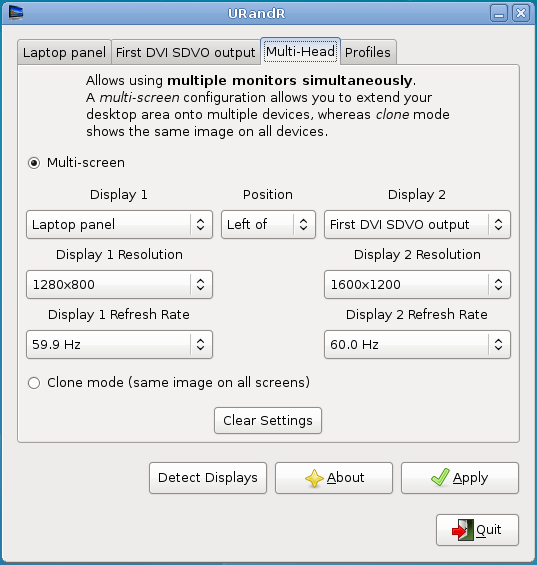 Furthermore you can now save your current settings to a profile. Currently there are four profiles which you can use to store your settings (home, office, conference, other). You might wonder what you can do with such profiles?
1) you can save your settings to a profile (e.g. your DVI screen is set to a resolution of 1600×1200 and is to the left of your laptop screen) and load them whenever you want without having to set the resolution and screen position every time.
2) you can choose to set a profile by default. so that when you enter your desktop your screens will be configured exactly as you want, without having to use URandR every time.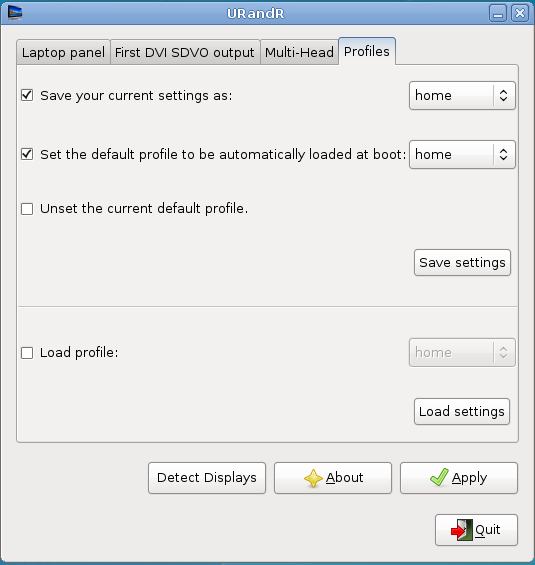 URandR doesn't write your settings to the xorg.conf but uses profiles. Profiles are scripts containing all your settings. If you set a profile as the default profile, such script will be executed every time you enter a desktop session.
NOTES:
1) Only GNOME, KDE, XFCE are supported (therefore setting a default profile might not work with other desktop environments).
2) Only two screens are supported.
3) Your graphic driver must support RandR 1.2
4) The new packaging scripts will make URandR easy to install on Debian (thanks to Cyril Brulebois).
5) You will find URandR in the System/Preferences menu in GNOME and in the Settings menu in KDE.
You can get URandR here.
Constructive criticism is welcome.
P.S. Yes, I will give you a version of Envy with Nvidia's beta driver before Christmas.
EDIT: Thanks to Alex Launi now URandR works well with ldap